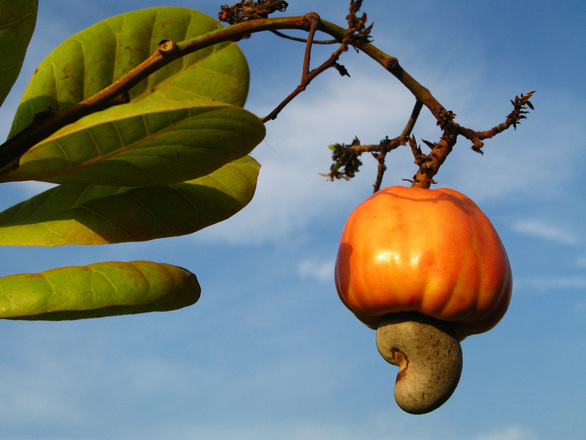 What are the various advantages of  Cashew Apple?
Cashew apple as medicinal value to treat stomach ulcers. Over the years, stomach ulcers seem to be a prevalent among us. Is an open sore that develops on the lining of the stomach.  It causes serious discomfort to its victims. Stomach ulcer may be painful. Vomiting, stooling with blood, excruciating pains, and chronic heartburns are sights no one wants to see often. Sometimes, it feels like a visit to the gate of hell, or a stroll on a thorny land full of mines.
Cashew fruits blessing from Ghana
Cashew fruit is a native of Ghana, an evergreen, flowering plant that bears both cashew apple and cashew seed simultaneously. The top end of cashew apple is attached to the tree. Cashew seed or cashew nut often referred to as cashew is attached to the cashew apple. Cashew nut as about 10% starch, with no cholesterol content and often taken as snack, delicious and palatable to eaters. Take care not to get your clothes stained by cashew apple juice, it may never get removed no matter how hard you tried washing.
Cashew Apple: Solution to stomach ulcers
Fleshy and juicy cashew fruit also known as cashew apple is a good treatment for stomach ulcers. No doubt, its antibacterial tendencies are factors that influence healing in stomach ulcers, which are usually caused by bacterial H. pylori on the stomach lining. Regular intake of cashew apple will continually inhibit the growth of the bacterial in the stomach, though prevent stomach ulcer.
Comes in different colors
It comes in various colors, depending on the specie: yellow, reddish brown, yellowish green, and so on. Color as nothing to do with its curative psowers. Raw cashews can be eaten raw, or processed to juice, using blender. Any method that you adopt, the effect is still the same.
Vitamin C in Raw Cashews
Raw cashews are richly endowed with vitamin C and with an anti-scurvy effect. So, taking lots of cashew juice helps to treat stomach ulcers.
Be careful not to take unripe cashew fruits because it as high acidic concentration that most likely to cause serious stomach upset, and compound ulcers. Avoid the temptation at all costs
Regular, intake of cashew apple may be the solution, or a better alternative to doctor's prescriptions, to treat stomach ulcers. No side effects, cost effective, easy to manage, available world over. Natural remedy to treatment of stomach ulcer may be at your door step, with no proven cashew side effects and at your finger tips.